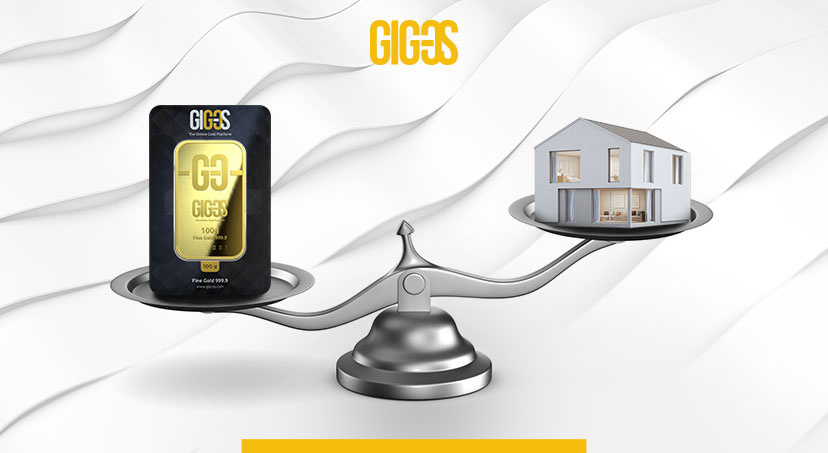 Average reading time — 3 minutes
Real estate is often contrasted with gold as an investment object. Indeed, there are certain similarities between the two assets:
both have a real physical value;

both assets represent an alternative to unsecured currency.
However, a number of fundamental differences do not allow equating the yellow metal and real estate. Let's figure out why.
Wallet requirements
Buying a property is always a great burden on the personal budget. You will need a large amount of money to purchase a house, apartment or land plot. You can get a loan from a bank, but this means taking on debt obligations and the associated risks for many years.
On the other hand, investing in gold is available to people with almost any income level. There is a wide variety of bars on the market, the smallest of which weigh one gram. This means that you can start creating your personal gold reserve with an amount of $100.
Liquidity
You are unlikely to be able to sell your real estate quickly, at the full purchase price and without the hassle. It usually takes a lot of time to find a buyer and seal the deal. One can seek help from a real estate agency to speed things up. But it will be expensive at best, and at worst, you risk falling into the hands of scammers.
The process of buying and selling gold bars is much easier and faster: oftentimes the bank or a specialized store where you purchased the bar would be ready to buy it back from you at the market price. Today, you can create your own gold reserve without leaving your home, online.
Related expenses
Having become the owner of real estate, you are forced to pay taxes for it, spend money on maintenance and repairs. In addition, real estate is almost impossible to hide from prying eyes and wrong hands, so thieves and vandals will be a constant threat and a source of headaches.
Gold bars require only a reliable storage space that would not entail large expenses. One of the most important advantages of bars — compactness. For example, a product weighing 100 grams is no larger than a bank card.
сюда можно поставить фото нашего 100-граммовика рядом с банковской картой
Impact of time
Unlike gold, real estate is not an eternal value. During the exploitation period and even during downtime it is subject to physical deterioration, which significantly lowers its cost.
Yet the yellow metal is absolutely timeless. Gold does not rust or deteriorate for centuries, and the age of the bar does not affect its price in any way.
Geographic factor
The real estate market is heterogeneous and prices vary significantly from place to place. For example, a square meter of housing in Monaco will cost you an average of $65,000, and in the capital of Paraguay — from $500 to $700. An additional obstacle to making a purchase may be the lack of citizenship of a particular country.
The price of gold is set by the London Bullion Market Association. The rates approved by this organization become the standard for the whole world. If the yellow metal rises in price, then this is happening everywhere, and not only in individual regions.
Due to its affordability and ease of acquisition, gold has become an extremely popular asset. Central banks, investors and ordinary people buy it to ensure their Financial Security. Today, you can become the owner of gold from any place on the globe where there is access to the Internet.
The GIG-OS online platform provides access to a broad range of investment gold bars of the highest fineness (999.9) from anywhere in the world, at any time of the day. Subscriptions and special projects of the platform allow you to purchase the precious metal on especially favorable terms.
Create your gold reserve together with us!