Average reading time — 2 minutes
These precious metals are bitter rivals. Both of them are used as raw materials for jewelry, they have applications in medicine and high technologies as well. But the title of the best protector of savings rightfully belongs to gold. Why?
The vulnerable side of platinum
At first glance, platinum has everything to surpass gold in terms of price and demand. The white metal occurs in nature more rarely (there is only one platinum mine per 10 gold mines), and the geography of its production is very limited — more than two-thirds of the total volume is mined in South Africa and Russia. Extracting platinum from the depths of the earth is much more difficult than gold. But there is one important "but".
Platinum has a very narrow specialization. The lion's share of this metal is consumed by the automotive industry for manufacturing of engines. Therefore, the cost of white metal is highly dependent on the state of the world car market. Economic crises, as a rule, lead to decrease in demand for cars, which negatively affects the platinum price.
Change of leader
The price of gold is not so strongly dependent on any industry. In addition, the yellow metal market is larger and more liquid. The high popularity and widespread recognition of gold makes it much easier to buy or sell than platinum.
At the end of 2019, the global gold market was estimated at $9.6 trillion. The platinum market is only $6.51 billion.
Since 1987, platinum has enjoyed elite status and has been valued more than gold. In 2008, the yellow metal surpassed its competitor for the first time in a long period. And since January 2015, gold prices have been consistently higher than platinum prices.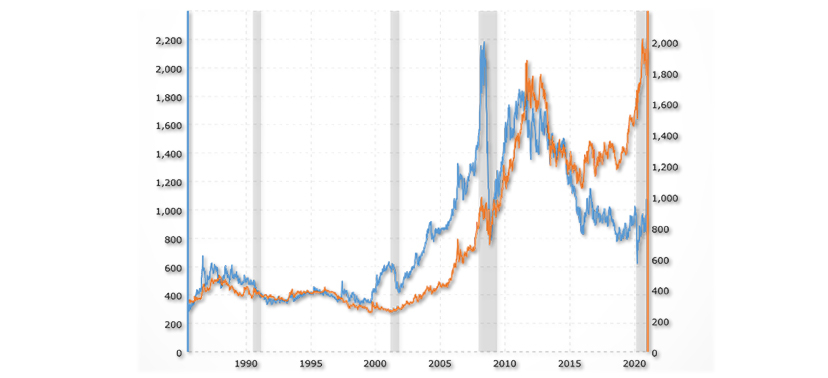 On the chart: the history of the price duel between gold (yellow) and platinum (blue).
Achievements in the past year
In March 2020, the price of platinum experienced a dramatic collapse and slowly recovered over the following months. To date, platinum has managed to slightly improve its positions and achieve an annual 6.8% increase in price.

As of December 22, 2020, the price of an ounce of platinum is $1,016.
Gold also experienced a sharp price drop in March, but managed to quickly return to previous values and even exceed them. Later, there was a steady rise in prices with minor fluctuations. Over the year, the yellow metal has risen in price by impressive 24%.

As of December 22, 2020, the price of an ounce of gold is $1,873.
Create your own reserve
Market data of recent years clearly indicate the superiority of gold and finally put an end to the question of choice of the best defensive asset. The only thing left is to find the perfect option of purchase.
The GIG-OS Time Shift project provides favorable conditions to accumulate gold and significantly strengthen Financial Security. And for this you don't need to save up money for buying gold bars and stick to austerity.
Buy gold wisely, without changing the established way of life and without giving up your habitual life pleasures. Order 100 gram bars, choose a payment schedule and amount of regular installments, and pay in installments. After completing each deal, you will receive a nice bonus — additional 5 or 10 grams of the valuable metal.
Let gold take care of your well-being!