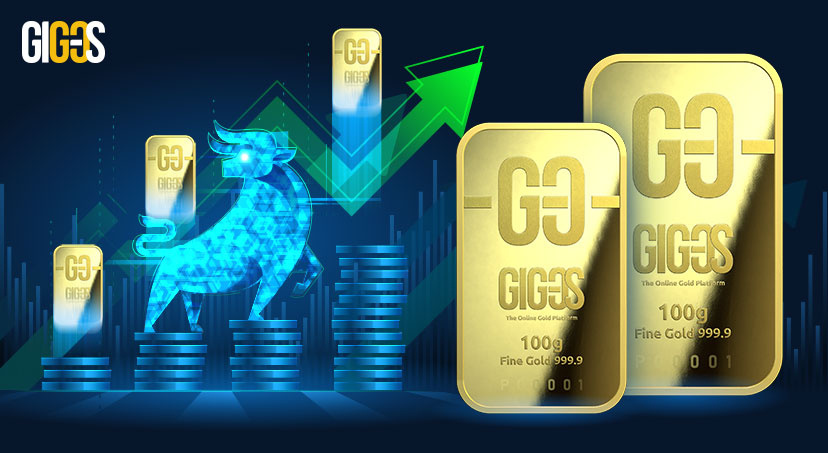 Average reading time — 2 minutes
The price of an ounce of gold is steadily going up and is near the $1,900 mark, demonstrating the best performance in the last five months.
As of June 7, 2021, the price of an ounce of the yellow metal is $1,887.
Thailand's reaction
The rising cost is fueling interest in gold across different parts of the world. In April of this year, the Bank of Thailand made a large purchase — 43.5 tons.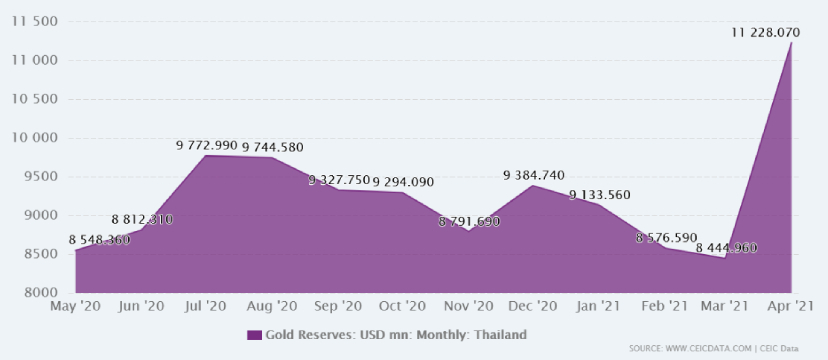 In the chart: in April 2021, the amount of gold in the vaults of the Bank of Thailand considerably increased. Now the country's gold reserve is worth more than $11 billion. The central bank made the decision to buy an impressive batch of bars just as the price of the yellow metal was heading for the upward trend.
Apart from Thailand, Uzbekistan (8.4 tons) and Kazakhstan (4.4 tons) replenished their gold stocks in April.
The World Gold Council* believes that this year central banks will primarily buy rather than sell the yellow metal.
According to analysts of the influential German conglomerate Commerzbank, increased demand on the part of central banks will significantly strengthen the positions of gold in the market. Overcoming the $1,900 mark indicates positive prospects for further price growth. Commerzbank is convinced that it is only a matter of time before the next milestone of $2,000 is reached.
News from China
It is not only state financial institutions that are showing a heightened interest in gold. It is in high demand among ordinary people. A case in point is China, where the largest shipment of the valuable metal in the last three years was imported via Hong Kong in April.
According to Rhona O'Connell, head of market research at StoneX Group Inc., a large demand for gold has formed in China due to the problems caused by the pandemic and fears about inflation, but as soon as the authorities issued additional import quotas to commercial banks, the precious metal poured into the country in a relentless stream.
In the chart: the gold price hike (in Chinese yuan) over the past month.
While gold gains momentum to reach a new height, it's time to strengthen your savings using this reliable financial asset. The GIG-OS online platform has combined the best strategies for buying investment gold with modern digital technology. If you are looking for a profitable, convenient and safe way to regularly purchase gold bars, then you have come to the right place!
Glossary:
*The World Gold Council — the market development organization, founded by the world's leading gold producers to stimulate demand for gold.