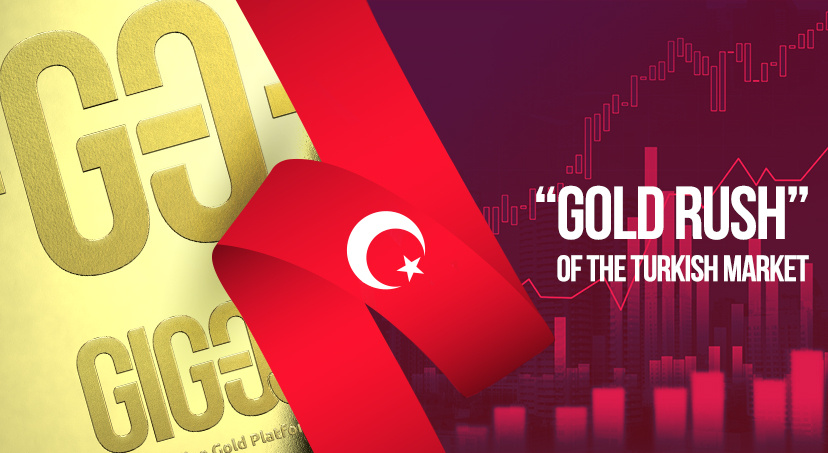 Average reading time — 3 minutes
In 2020, the demand for gold increased significantly in Turkey. According to the Turkish stock exchange Borsa Istanbul, imports of the yellow metal have surged by 123% over the past year. The total cost of the imported valuable metal amounted to $25 billion. Stock exchange statistics have shown that the volume of the yellow metal imports in Turkey has reached its highest levels in the last three years.
The collapse of the Turkish lira
The growing demand for gold is associated with the devaluation of the local currency. Last year, the lira depreciated by 20% against the dollar, becoming one of the weakest currencies in the world. In response to this, government foreign exchange reserves were used. Inflation began to rise against the background of gradually depleted reserves. According to statistics, the inflation rate exceeded 14% in 2020.

In the chart: The rapid collapse of the Turkish lira has heightened interest of locals in the precious metal.
Gold for business
Amid the weakening of the national currency and the economic crisis, the demand for gold has increased among Turkish entrepreneurs. Over the past year, local firms and private investors have nearly tripled their gold reserves. In monetary terms, this is more than $36 billion, and that's not counting the precious reserves of the Turkish population, the total volume of which amounted to nearly 5,000 tons at the end of 2020 — about $250–300 billion.
A reliable financial asset
Gold is the most popular type of savings among the Turkish population. According to ING Bank, which has several branches in Istanbul and other large cities, every fourth resident of Turkey keeps personal savings in physical gold.
As of February 8, 2021, the price of an ounce is $1,815.
The demand for the precious metal is associated with the instability of the economic situation in the country. Turkish residents have already had to deal with inflation, currency devaluation and bankruptcy of national banks. In each of these cases, their savings either dropped significantly or vanished altogether. That is why people are rushing to transfer their savings from currency to the yellow metal in order to preserve and protect them in times of financial instability.
Gold is a stable and reliable asset, the position of which strengthens during the crisis.
Minimize the risks of loss of savings, create your personal gold reserve on convenient, profitable and safe terms with the help of the GIG-OS Time Shift project.
Purchase 100-gram bars in parts by choosing the most suitable amount of contributions yourself. Set up a payment schedule that is convenient for you and make payments at any time without undue burden on your personal budget. Upon completion of the deal, you receive a gift that helps you not only preserve your funds but also accumulate them faster — additional 5 or 10 grams of gold.
Opt for gold!